Nov 10 2018
HEADACHE

Question- What is Headache??
Answer- Headache is pain in any region of the head or neck. Headaches may occur on one or both sides of the head, radiate across the head or certain locations
Type of Pain is Dull, Sensation of tightness or pressure from your forehead or on the sides and back of your head, Relief by Pain Killer,

TYPE OF HEADACHE-
• Tension headaches
• Cluster headaches
• migraines allergy or sinus headaches
• Hormone headaches
• Caffeine headaches
• Exertion headaches
• Hypertension headaches
• Rebound headaches
• Post-traumatic headaches


TENSION HEADACHE
Also called Stress Headache as per this name you very well know the appearance of Headache due to any Stress or Tension
Cause mild, moderate, or intense pain in your head, neck, and behind your eyes.
Feels like a tight band around their forehead.
Starts at the Back of the head (Nape of the NECK), radiate to front or around the side of the temples, tightness in the Shoulder, Neck or Jaw

Causes of Tension Headache-
• Due to overwork.
• Due to any Stress.
• Dehydration.
• Lack of Sleep
• Depression and Anxiety
• Some time Headache due to empty Stomach you do not eat your Lunch or Breakfast Proper
• Bad POSTURE

Treatment and Management-
Home management- Drink adequate amount of water maintain hydrate your Body.
• Limit Alcohol
• Improve your Posture
• Sleep well (Do not wake up late Night)
• Apply Cold Compress on your head.
• Proper Rest



Homoeopathic Medicine- Belladona-30 every 15 minutes if you feel throbbing pain
Gelsemium-30 every 15 minutes if you feel dull
Natrum mur-30 if headache occurs due to Sunlight
Iris Ver-30 Frontal headache with Nausea (this medicine works in all type of headache)


CLUSTER HEADACHE
As per there Name the Pain appear in the form of Cylindrical Pattern or Cluster unilateral (one sided) A bout of regular attacks, known as a cluster period
Cluster headaches are sudden, excruciating headaches that usually affect one side of the head and the area around the eyes. May be last for a few days, weeks, or months. Most of the attacks occur in Night, after you go to bed.
Cluster headache isn't associated with triggers, such as foods, hormonal changes or stress.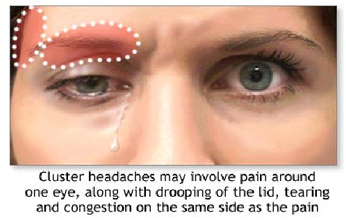 Symptoms- Headache- Discomfort or a mild burning sensation. (One-sided pain) Excruciating pain, generally situated around one eye,
• But may radiate to other areas of your face, head, neck and shoulders
• Restlessness
• Sweating
• Runny Nose

Sign- Redness or Swelling around the eye on the affected side
• Drooping of upper eyelid (Ptosis)
• Excessive tearing (Epiphora)
• Sensitive to light
• Pale skin
Treatment- Home Treatment- Daily exercise may improve your circulation so reduce stress, and help you sleep better
• Capsaicin or Chilly is the active component of cayenne pepper and acts as a pain reliever by stimulating pain sensation nerve fibers and send signals to the brain
• One Clove Put in your mouth for a few second you feel burning in your mouth this is Slight Burning But after some time drinking water will get relief
• Avoid Smoking & Alcohol
• Ginger Tea also helpful relieve to Pain
Medical treatments commonly prescribed for cluster headache include:
Oxygen delivered by mask
injectable sumatriptan (Imitrex, Alsuma, Samavel DosePro)


HORMONE HEADACHE
Also called ''Menstrual Migraine'' as per there name due to hormonal changes this headache occurs
Hormone headaches. Many women experience headaches due to changes in their hormones.
This headache occurs more often in women than in men. Although headache are equally common in young girls and boys due to hormonal changes

Causes -Fluctuating hormone levels are a major contributing factor
• Hormone levels changes during the menstrual cycle, pregnancy, and menopause, (Due to oestrogen & Progestron hormones)
• Use of oral contraceptives
• Done hormone replacement therapies.




Symptoms- very Dull feeling
• Loss of Appetite
• Fatigue.
• Acne
• Pain in Joints
• Constipation.
• Cravings for alcohol, salt, or chocolate.
• Urine out put decrease
• lack of coordination or Concentration.
• Lonely Feeling
Treatment- Home Treatment- Drink 8-10 glass/day hydrate your body to maintain your Oxygen
MAKE A HERBAL TEA- how to make in simple tea you add Cinnamon, Ginger or mint leaves make you're in this tea you are not add milk you drink Black tea
Vitamin B complex diet (SEEN IN OUR HEALTH TIPS)

Exertion headaches
As per there name Exertion so this type of Headache occurs due to any exertion this is also called ''Activity Related Headache'' Headache triggered by physical activity typically reduce pain when the exercise stops.
There pain gradually start his intensity

• caused by- They generally occur during strenuous heavy exercise, like biking, running, or weightlifting, due to heavy exercise increased pressure on blood vessels in the brain.
• Due to Prolong Exercise





Symptoms- Exertion headache symptoms similar to migraine
Headache-Throbbing pain
Increased pain sensitivity due to light.
nausea, and vomiting.
last from as little as five minutes to as long as one or two days
Sweating

Treatment- If there is no underlying cause
ibuprofen (Advil, Motrin) or naproxen (Aleve, Naprosyn) 30 minutes before exercise sessions.
also used for ice pick headache treatment.
Homoeopathic Medicine- KALIPHOS 6X-- very beneficial Homeopathic remedy
This take 4-4 tab thrice a day
Also before going to exercise firstly you slowly-slowly walk on Green Grass without shoes means Barefoot on the grass


REBOUND HEADACHE
Rebound headaches (medication-overuse headaches)- this type of headache occurs due to overuse of unnecessary drug or pain reliever drugs

Symptoms- Dull, persistent, tension-type headache that happens either daily or nearly every day. The pain is usually increased in the morning.
When you wake up with simple headache and take a pain relief medicine to treat it,
for a few hours, pain subside
But after few hours the pain is worse in the long run.

Treatment- avoid taking unnecessary taking drugs
Daily meditaion
Yoga Halasan (PLOW POSE)




CAFFEINE HEADCAHE
As per their Names such type of Headache due to withdraw of Caffeine such as Coffee, Tea
Skipping your daily cup of coffee can lead to headaches,

Symptoms- Headache
• Lack of energy
• Lack of Concentration
• Fatigue
• Mood depressed
• Irritable

Treatment- Cut back slowly-slowly your Caffeine habit
Stay hydrated: Drinking 8-10glass/day water is when cutting out caffeine. Dehydration can worse symptoms of withdrawal, such as headache and fatigue
Boost your energy by Natural diet




POST TRAUMATIC HEADACHE (PTH)
POST- MEANS AFTER
TRAUMA- MEANS INJURY
Means those type of headache who occurs after injury
"a headache developing within seven days of the injury or after regaining consciousness." Post-Traumatic Headache usually occurs after a head injury or NECK INJURY

• Caused by- Falling of head
• Due to accident
• Sports injury


Symptoms- Headache
Pain in Neck
Headaches worse by exertion, coughing, bending over or head movements.
Dizziness or Dullness
Double vision.
Tired eyes.
Memory problems, loss of memory
Loss of appetite.
Nausea vomiting
Sensitivity of light or Sound

Treatment- Homeopathic medicine is the Best Medicine to treat such type of headaches
Arnica-200 very good medicine after injury
Natrum Sulph-200 headache due to head injury both medicine 4 globules take morning and evening Very beneficial to PTH


HOMOEOAPTHIC HEADACHE MEDICINE ACCORDING TO SYMPTOMS
CEDRON-Q very good medicine for ''Periodicity''
Headache- coming on 9a.m. pain from temples to temples across eyes, pain in eye balls
Very useful in all type of headache PATIENTS Very much irritable due to headache.
Worse due to working

Bryonia-200 very effective medicine if headache increase due to slightest motion

Chinnum Sulph-200- intermittent headache, return every week, every day.

Cocculus indica-200- Headache due to travelling, pain in back of head

Glonine-200- Headache due to Sunstroke

Ignatia-200- headache feel as if Nail driven

Ipecac-200- headache with Nausea & vomiting

Iris ver-Q- Hemicranias (half headache) sour watery vomiting, blurry vision

Sanguinaria-200- Headache affecting Right side or settle down on Right eye, PERIODIC Every 7th Day

Spigelia-200- Headache Violent settle over Left eye .

Silicea-3x- Chronic headache worse by talking, working, Stooping

Natrum mur-200- headache due to Anemia, great severity start from ''Sun rise to Sunset''

Zincum met-200- Chronic deep headache with Brain Exhaustion.
YOGA TO Relieve Headache